How Alamo Drafthouse Cinema Responded To Bankruptcy | Features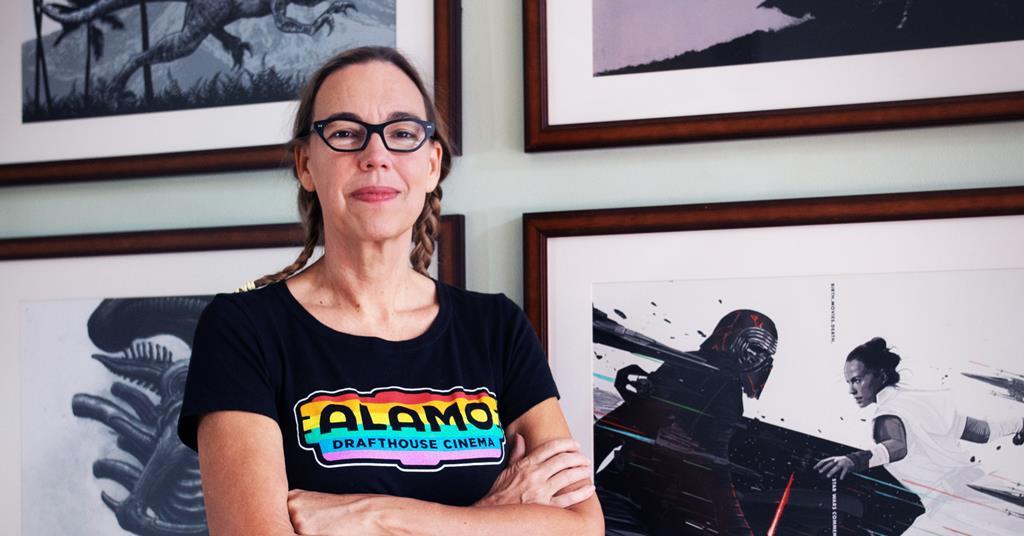 Shelli Taylor is CEO of Alamo Drafthouse Cinema, the Texas-based chain created by Tim League as a one-screen theater in Austin, Texas in 1997. It is renowned for an eclectic slate of new releases as well as a repertoire program dynamic, fan events, premium food and drink on-site, and a strict no-talking and no-texting policy during screenings.
Taylor was appointed in April 2020, when League became executive chairman. During the pandemic, she worked on the March 2021 sale of the company's assets to senior lenders including Altamont Capital Partners and Fortress Investment Group, League and other investors. The company voluntarily filed for Chapter 11 bankruptcy to allow for a financial restructuring that positioned it for growth.
Alamo theaters eventually reopened, though five locations closed permanently (one in Austin, Dallas and Kansas City, and two in the San Antonio area) and the chain currently operates 36 U.S. theaters. Pandemic initiatives include private rental for families and friends, and the curated VoD platform Alamo On Demand. Earlier this year, Alamo Drafthouse announced it would open seven new locations across the country, including Washington DC, Staten Island and Chicago.
Among executive career highlights prior to Alamo, Taylor worked at Starbucks for 20 years, where she played a key role in the company's expansion into China; served as Vice President of Disney English, China's leading provider of English immersion for children; and most recently served as President and COO of United PF Partners, overseeing 169 fitness centers in the United States.
How are the company's finances today in light of the pandemic and Chapter 11 bankruptcy?
We are in a healthy position. Like everyone who has been through Covid-19, we have been faced with some incredibly difficult choices, but we have used this time wisely, whether it is reviewing bankruptcy, renegotiating all of our leases or work on all of our major contracts and terms. We used it to improve the unit economics of our company. I am grateful that theaters are now open and business is mostly back to normal. During the pandemic, we closed a few places that didn't make financial sense. We made these painful decisions, but it has allowed us to operate healthy today and, more importantly, to open new sites.
Why should people go to cinema these days?
It's all that community experience. You can look [SXSW opening night film] Everything everywhere all at once, which is one of my favorite movies right now. You can watch this elsewhere on the small screen [eventually] and it won't have the same impact as when you're in a community of several hundred people enjoying a very funny and surprising movie.
There are so many options. The pressure on our industry is not about choice – choice is good and increases viewership and increases opportunities for filmmakers to tell their stories in different ways – but how to create the best experience, whether that's the presentation, the facilities, the cleanliness of the facilities, the type of food we provide, the people we hire and that experience of joy that we can uniquely create.
Has cinema as a leisure activity reached its peak and if not, how does it develop from here?
Absolutely not. On the contrary, the pandemic has created a deeper desire for people to have experiences outside the home that bring them joy. You'll see Rolling Roadshow return this year, Alamo Drafthouse Movie Parties will return in a bigger way throughout the summer. For us, it's about how to do more of what we've done and find new ways to surprise and delight, and then continue to open more theaters.
Tell us more about Rolling Roadshow, which isn't location-specific, and Alamo Drafthouse Movie Nights, which happen in all locations.
Roadshow is a pop-up cinema, usually outdoors but can be indoors, where we bring a film to life in a way no one else can. The most famous example is Jaws On The Water, where we showed Jaws on a giant pop-up screen and our audience is seated in inner tubes on the water. We have one in the works for Top Gun: Maverick. Movie Parties is a similar idea. Our programming and marketing teams will watch a movie and find a way to bring it to life. It could be a special party created around this movie, or it could be glow sticks or hats or other things.
What have been the lessons learned from the pandemic?
That your guests are the most important part of your business. We provide huge experience and they provide the other half. We will continue to double down on excellence in this overall experience. He makes sure the seats and the carpet, the spotlights and everything are world class.
The second lesson is that most of our customers have no idea that we have multiple locations in multiple states across the United States and I never want that feeling to go away. We want to be accessible to more people because we know that we experience cinema, in my humble opinion, better than anyone.
When did Alamo Drafthouse and the entire exhibiting community see the light at the end of the tunnel?
For us, going through bankruptcy was the start and being able to look and say we had enough capital and [operational] structure to ensure very short-term profitability and therefore long-term viability, because when you emerge from bankruptcy that does not mean that you are immediately profitable.
More broadly, what's happened in the fourth quarter of 2021 and the first quarter of this year is that this amazing slate of movies came back and they stayed. People showed up in droves to Spider-Man: No Coming Home and the rush for this film was phenomenal. But it wasn't just a blockbuster wonder, because there are so many other great movies that have come out since. We are positioned to have the best quarter [Q1 2022] since the pandemic and even before, on par with previous years. We only see opportunities and we are grateful that the studios present themselves as they do.
The Covid-19 pandemic has shrunk the exclusive theatrical window. What impact has this had on Alamo Drafthouse?
I've always been a little puzzled by those numbers—90 days, 45 days. They are arbitrary. Every movie deserves its own strategy and it can be 90, 120 days in a theater, straight to streaming or hybrid. We see [the growing distribution choices] as creating even more flexibility for our audiences. We address a wide audience. We are all in the service of supporting a film in the way it could and should be supported and giving it the best chance of reaching as many people as possible.
What do you think of dynamic ticket pricing?
This is such an interesting topic because from what I can tell, dynamic pricing or variable pricing, depending on how you want to define it, has been a constant in the industry for years. There are certainly minimums that you cannot go below, and then maximums of what your audience will endure. The largest [topic] is that the price is a function of the experience you create, so when filmmakers make amazing products and the studios deliver them to us, we create an amazing experience around that film. Then we will earn our right to the prize.
It is often said that exhibitors must do better when it comes to alternative programming. Alamo excels in this area. Has this always been fundamental to Tim League's vision?
When Tim started Alamo, he basically said, "I love movies and I love going to them, so how can I experience it the way I want to, ie movies, food and the pleasure ? How do you give people experiences they might not have had otherwise? "There are so many choices and what we don't want is to categorize our audience. Rather, we'd like to expand their world and give them that opportunity to explore all kinds of genres. He's been with Alamo since day one.
One of your next locations is the Alamo Drafthouse Staten Island, which has a kung fu theme.
It will be super fun and should open in May or June, depending on permits. We will have The Flying Guillotine bar and although kung fu movies will be our specialty there and we will over-index, we will show other types of movies.
Are there any plans to open Alamo Drafthouse theaters outside of the United States?
Today, the focus is solely on continuing to rebuild our business and proving that we are here to stay. In the long term, who knows? I have a background in international business and a passion for bringing great brands to other countries, but that would be a long term view not a short term one.